Report on Environmental conservation
(Information on sites in Japan)
The Company develops, manufactures, and sells chemicals for manufacturing electronic substrates. Recognizing that our business activities consume energy and resources, we will work to reduce the environmental burden.
In addition to complying with environmental laws and regulations related to business activities, we provide products that take into consideration energy conservation measures, waste reduction, proper management of chemical substances, and product life cycle. The aim is to make effective use of resources, prevent pollution, and conserve the environment.
Relationship between business activities and the environment
We make efforts to grasp the amount of energy and resources consumed in our business activities, the amount of CO2 emitted, the amount of wastewater discharged, and the amount of industrial waste discharged. KPI will be set based on the material issues described in our Company's 2030 Vision (Phase 1).
INPUT
Energy

Electricity consumption

3,616 thousand kWh

Gasoline usage (using company-owned vehicles)

4.95kL

Kerosene usage (heating of manufacturing sites)

14.9kL

Light oil usage (snowplow)

0.340kL

Resource
Number of
containers purchased
Chemical substances

The volume of PRTR target

18 chemicals 324t
OUTPUT
Air emission

Amount of CO2 emissions
(volume of GHG emission:
Scope 1, 2)

1,345 t-CO2

Discharge to sewage

Amount of
wastewater
24,969m3

Waste
Industrial waste emissions

336t

Of which, amount of
final waste disposal

55.7t
IBC : Intermediate Bulk Container
Electricity consumption
Three factories were in operation, namely Amagasaki, Nagaoka, and Nishinomiya, but the Nishinomiya Factory stopped operating at the end of 2021. In fiscal 2022, we began operating two factories. We believe that the increase in electricity consumption is necessary to increase the manufacturing volume, operate three factories, and improve the working environment. However, in order to reduce the environmental burden as much as possible, we generate electricity from sunlight on the roof of the Amagasaki Headquarters.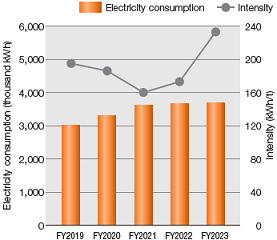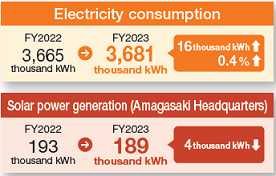 CO2 emission
We have calculated the GHG protocol Scope 1(fuel) and Scope 2 (electricity and heat) as CO2 emissions. Scope 2 (electrical) accounts for 96%.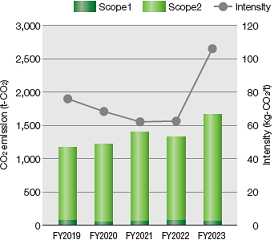 Water usage and amount of wastewater
Because water is a key ingredient in our Company products, we cannot reduce the amount of water used as the ingredient. We understand the amount of water used and are aware that we use a large amount not only in our raw materials but also in our manufacturing facilities, container cleaning, and substrate processing lines in our R&D activities. For this reason, we are working to reduce the number of times equipment is cleaned, to introduce automatic container-cleaning equipment, and to reduce wasteful use in substrate processing line work.
Water used in manufacturing and R&D operations is treated in wastewater treatment facilities, and wastewater treated in line with the regulated standards is discharged into the sewerage system. We strictly control the drainage so that it does not spill out while exceeding the standard value. In fiscal 2021, there were no wastewater discharges that exceeded the standard values.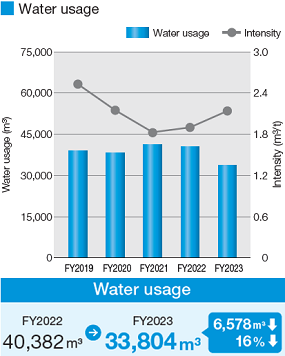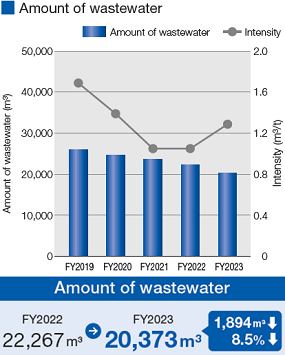 Efforts for reuse of plastic containers
On April 1, 2022, the Law Concerning the Promotion of Recycling of Plastic Resources (the Law for the Promotion of Recycling of Plastic Resources) was promulgated. The Company uses plastic containers such as plastic cans, plastic drums, and IBC to put its chemicals in. As a company that uses and discharges plastic products, we are working to reduce plastic emissions through our supply chain. After the chemical solution is used by the customer, the container is no longer needed and is subject to disposal. We collect and reuse plastic containers in order to make effective use of limited resources without waste. Containers collected from customers are sorted to determine whether they can be reused. Containers that can be reused are cleaned and reused by our Company and contractors.
Although our domestic customers are cooperating with this initiative, a high percentage of plastic drums are shipped overseas, and the recovery and reuse rates for those tend to be lower than those of other containers. In fiscal 2021, 79.0% of plastic drums were shipped, 21.7% were collected, and 68.1% were reused.
The recovery rate of plastic cans was 42.3%, and the reuse rate was 78.1%.
For IBC, while the number of customers delivered to is limited, the domestic shipping rate is high, and the recovery and reuse rates tend to be higher than those of other containers.
In fiscal 2021, the domestic shipping rate was 63.4%, the recovery rate was 60.5%, and the reuse rate was 98.5%.
Proper disposal of wastes
The amount of industrial waste discharged in fiscal 2021 was 336 tons, a decrease of 29.2 tons (8.0%) from fiscal 2020. Of this amount, specially controlled industrial waste amounted to 152 tons, an increase of 34.4 tons (up 29.3%) from fiscal 2020. The final amount of disposed industrial waste was 55.7 tons (recycling rate : 83.5%). We started collecting data on the final disposal amount from FY2018, and FY2020 was almost the same as FY2018 and FY2019. We also sort metals and sell them as valuables, and no metal is discarded as waste metal. Going forward, we will strive to curb the generation of waste, and make efforts to reduce our environmental burden by thoroughly separating and recycling the generated waste.
Environmental Accounting for FY2021
(Information on sites in Japan)
We use environmental accounting to calculate cost (expense) and effect (quantity) as a mechanism to quantitatively evaluate our environmental conservation efforts.
Table Environmental conservation cost in FY2021
Environmental conservation costs in fiscal 2021 totaled 1,866,892 thousand yen. 57% of this amount was used for pollution prevention costs. This is due to the large depreciation cost of wastewater treatment equipment at the Higashi-hatsushima R&D Center, which was restarted in April 2020. Upstream and downstream costs associated with the collection of used containers and outsourcing of container cleaning were less than 1%, but increased approximately 0.7 million yen from fiscal 2020.
Development standards
Data gathering period: 12 months from January to December 2021.
Scope: MEC CO., LTD. [Amagasaki Headquarters (Head Office / R&D Center / Amagasaki Factory), Nishinomiya Factory, Nagaoka Factory, Tokyo Sales Office, Higashi-hatsushima R&D Center.]
"Environmental conservation cost" only targets cost whose objectives are clearly related to environmental conservation activities.
"For the research and development cost", costs which can be categorized into themes are individually processed, while costs which cannot be directly categorized are distributed in proportion based on theme-specific work hours.
"The amount of the cost" includes depreciation costs and maintenance and management costs of facilities, as well as labor costs which are used for the purpose of environmental conservation.
Category
Main activities
Cost
(Thousand yen)
(1) Cost within business areas
1,005,976
1. Cost of preventing pollution
Maintenance and management of wastewater treatment facilities, prevention of water contamination, etc.
973,240
2. Cost of protecting the global environment
Energy conservation measures
0
3. Resource recycling cost
Cost of outsourcing the disposal of industrial wastes
32,735
(2) Upstream and downstream costs
Cost of outsourcing work to collect containers and wash them, etc.
7,001
(3) Management activity cost
Cost of maintaining and operating environmental management systems, cost of planting plants around business sites
8,295
(4) Research and development cost
Research and development of products with lower environmental load
745,453
(5) Cost of social activities
Global environment conservation activities, etc.
1,753
(6) Cost of responding to environmental damage
Not applicable
0
Total
1,768,477
| Item | Amount (Thousand yen) |
| --- | --- |
| Total amount of investment during the applicable period | 338,832 |
| Total cost of research and development during the applicable period | 1,323,746 |
| Item | Amount (Thousand yen) |
| --- | --- |
| The monetary amount of valuable goods sold in regards to (1)-3 | 2,474 |
| The monetary amount of valuable goods sold in regards to (2) | 0 |
| Other (solar power generation) sold amount | 4,959 |
Table Environmental conservation effects in FY2021
The environmental conservation effect is expressed based on the change in the absolute amount from the previous year (FY2020 conversion). Primary units (the amount per ton of production) are also used for some indexes. We are continuing to be actively involved in environmental conservation activities based on the recognition that one of our important missions is to reduce environmental loads.
Category of environmental conservation effects
Environmental performance index
Value of the index (amount)
Comparison from the last fiscal year
Value of the index (intensity)
Comparison from the last fiscal year
(1) Effects in response to costs within the business areas
Effects in regards to the input of resources into business activities
Amount of electricity input
3,616 thousand kWh
+318 thousand kWh
160kWh/t
-13.7%
Amount of city gas input
4,926m3
+90.0m3
0.22m3/t
-19.8%
Amount of water input
41,194m3
+2,982m3
1.8m3/t
-15.1%
Effects in regards to the environmental load of business activities and associated wastes
Amount of CO2 emissions
1,345t-CO2
+132t-CO2
60kg-CO2/t
-12.7%
Amount of COD emissions
1.45t
+0.64t
Total amount of industrial waste emissions
336t
-29.2t
(2) Effects corresponding to the upstream and downstream costs
Effects in regards to assets and services produced from business activities
Number of reused containers (total number)
Plastic containers
63.6 thousand units
+10.8 thousand units
Plastic drums
4.94 thousand units
+1.52 thousand units
IBC
6.71 thousand units
+1.08 thousand units