Basic Policy
With Employees (Responsibility to Employees)
Upholding the corporate motto "Enjoy your work", the MEC Group continues to be a corporate group in which each employee is pleased to work and proud of being a member of the MEC Group, and can enjoy greater happiness.
Working environment
The premise of our Company is respect for human rights, and we clearly state that treatment that ignores human rights, such as child labor and forced labor, is strictly prohibited. When hiring people, we check their age with official documents and make strict rules to ensure there is no dishonesty.
Changes in the number of employees
MEC proactively recruits highly capable personnel, through hiring new graduates and mid-career entrants, as well as concluding direct employment contracts with temporary workers. Our employee retention rate has been constantly at a high level.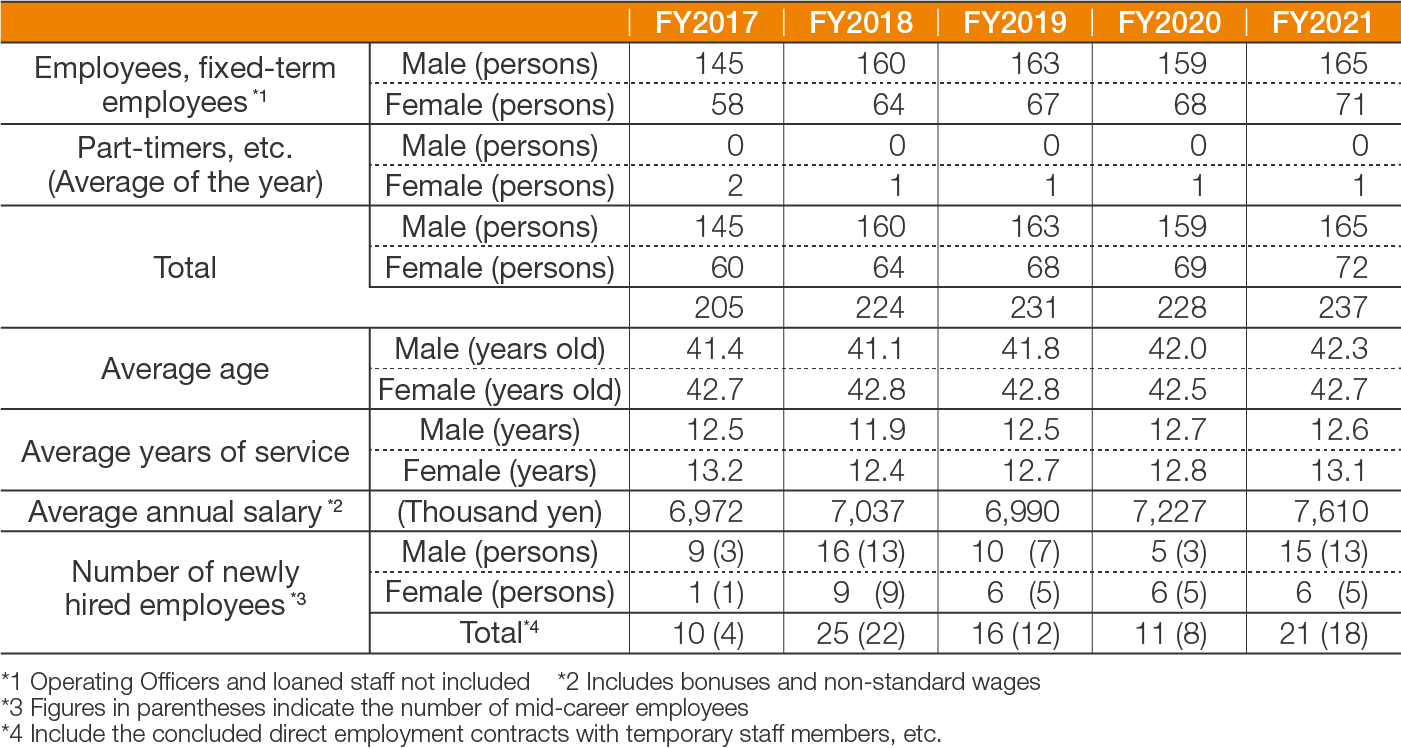 Employee turnover rate
Employee turnover rate in fiscal 2021 was 3.3% in total (those who retired are not included). On a gender basis, 3.0% (5 persons) of male employees and 4.1% (3 persons) of female employees left the Company. [Fiscal 2020 results: 5.7% in total, 5.6% (9 persons) for male, 5.7% (4 persons) for female.]
Acquisition of paid holidays
In FY 2021, the rate of taking paid leave was 59.6%. Due to revisions to the Labor Standards Act, each employee is required to take five days of paid leave, but all employees are taking it appropriately. The rate of taking such leave was 61.6% in FY2020. One of the reasons for the decrease in this rate is that the introduction of the telecommuting system and flextime system has made the working hours more flexible.
Overtime management
To ensure that overtime work per month does not exceed 45 hours, we monitor the amount done by each employee each month to prevent overtime work that may affect their health.
In fiscal 2021, in order to respond to an increase in product production due to strong demand for semiconductors, there were cases in which "Article 36 Agreement", a standards on such as the limit of the extension of working hours, were not exceeded. But this standard was exceeded in some cases. We will thoroughly follow up with the responsible departments.
About work-life balance
Our company motto is "Enjoy your work", and we are making various efforts to ensure a good work-life balance for our employees. Below is an explanation of each system and the number of acquisitions (partial).
Numbers of employees who used childcare and family-care support systems
We aim to create a working environment where every employee can balance work with family life, by using leave and benefit systems to support employees' childbirth, childcare, family care, and the like.

Maternity leave
We grant every pregnant employee maternity leave for the number of days conforming to laws and regulations. Additionally, leave for maternity health care is given in certain cases.
Nursing leave
We have adopted a system of baby-care leave to enable our employees to engage in childcare without anxiety. Both male and female employees are entitled to baby-care leave of up to two years. Some male employees have taken baby-care leave.
Child-rearing leave (Original system)

We grant paid child-rearing leave of up to five days per year to employees with pre-school children, in order to enable them to engage in child rearing without anxiety. Both male and female employees are entitled to child-rearing leave. This system is also used by men to participate in childcare.
Leave for nursing sick children
To enable employees to look after their pre-school children without anxiety when the children are sick or in similar circumstances, we grant unpaid leave for nursing sick children of up to five days per year to employees with pre-school children. Employees with two pre-school children can use leave of up to 10 days per year.
Long-term family-care leave
We grant long-term family-care leave of up to 93 days to employees who have to provide a family member with long-term nursing care and it is being utilized.
Reduced working hours for family care
Employees who have to engage in family care can use a system of reduced working hours twice in 3 years.
Paternity leave (Original system)

We also have a system of granting male employees paternity leave (paid) for the purpose of being present during the childbirth of their spouses and other related purposes. For each occasion of childbirth, paternity leave of up to five non-consecutive days is being utilized.
Reduced working hours for childcare (Original system)

Regardless of whether they are male or female, employees with children under the fourth grade of elementary school can utilize a system of reduced working hours, which enables them to work for shorter hours than the regular working hours in order to engage in childcare, including taking children back and forth to school and taking care of their meals.
Short-term family-care leave
We grant employees short-term family-care leave of up to five days per year(unpaid). Employees who have two family members to look after can use leave of up to 10 days per year.
Accumulated paid leave (Original system)

We grant our employees accumulated paid leave, which is a special paid leave aimed at supporting continuous employment. It can be used when employees have to take a leave for more than one week for reasons of medical treatment, medical care, caregiving and nursing care. Up to five days of annual paid leave that expired can be amassed as the accumulated paid leave per year, with a maximum of 40 days in total.
Job training on return to work (Original system)

We provide employees returning from long-term leave with job training as needed, in order to encourage them to return to work smoothly.
Return to work (Original system)

In our company, 94% of the employees who used the system of baby-care leave have so far returned to work. While we do not have any special systems compared with other companies, the above figure suggests that we have a working environment that encourages smooth return to work.
Working environment
Respect for human rights policy
Respect for human rights is a major premise for our operations. By clearly stipulating prohibition of child labor and forced labor, we demonstrate our determination to respect human rights. When hiring, we make sure that there are no fraudulent rules, such as stating the age in official documents.
Preventing Harassment and Discrimination
We distribute the "Labor and Ethics Guidelines" prepared based on the RBA Code of Conduct, which is a code of conduct for the electronics industry, to all officers and employees to raise awareness of the need for harassment prevention. At the same time, we are working to prevent harassment by posting the guidelines in our in-house database, disseminating specific cases of harassment, and providing training.
The guidelines also state that we will not discriminate in terms of employment, promotion, or salary increases based on nationality, place of origin, gender, sexual minority (LGBTQ+), etc.
Freedom of association
Although we do not have a labor union, we do declare that we respect the legal rights of our employees (such as participating in collective bargaining).
Whistle-blowing system
We have established contact points both inside and outside the Company for internal reporting of non-compliance, etc., which are made known to all executives and employees. We have also set regulations to prevent any disadvantage to the informant. The internal reporting contact points are written in the Labor and Ethics Guidelines, which are distributed to all executives and employees, and are also notified in training for new employees.
Retention rate of new entrants
We endeavor to establish a comfortable working environment and provide sufficient training and on-the-job teaching and education for new employees. As a result of these efforts, the retention rate of new entrants in their third year is kept high level.
Employee satisfaction survey
In order to improve the workplace environment, we conduct an anonymous survey every year to assess employee awareness and satisfaction.
In the 15th survey conducted in fiscal 2021, we asked for the first time a specialized external research organization to conduct an awareness survey of all employees, including temporary staff.
Responses were submitted by 97% of the surveyees, and it was confirmed that they maintained a high level of satisfaction. However, various problems that had not been seen in previous in-house surveys were pointed out along with improvement proposals. We will take measures to address these issues and achieve a better working environment.
General Employers Action Plan based on the Act on Promotion of Women's Participation and Advancement
Our Company has formulated the following action plan to develop employment relationships in which employees can demonstrate their abilities and promote the advancement of women.
Planned period:

April 1, 2022 to March 31, 2024 (two years)

Target:

Increase the number of female workers in managerial positions to be promoted to section chief level or higher by two or more

Countermeasures:

From April 2022

Development of female workers who are candidates for management-level management positions Carry out (OJT/Off-JT)

From October 2023

Report and respond to management when it is judged that promotion is possible

From January 2024

Promotion
Approach to Diversity
Our Company recognizes and promotes diversity with the aim of creating an environment that takes advantage of individual differences such as nationality, gender, sexual orientation (LGBTQ+), age, and disability, allowing everyone to fully exercise their vast range of abilities.
Reemployment system
After asking all employees near retirement whether they want to be reemployed, we reemploy those who want to continue to work until age 65 in principle.
Employment of women
In our workplaces in Japan, female employees (72 people) account for about a third of all our employees (237 people).
Among 46 people in management (including operating officers), the number of women amounts to nine, accounting for 19.5%. By occupation, six in clerical work and three in research are demonstrating their abilities in their workplaces.
Of our seven directors, five are men and two are women.
Employment of the challenged
We take the initiative in boosting the employment of challenged people to provide them with job opportunities.
As of December 2021, we meet the mandatory proportion of jobs for handicapped people.
Instead of just aiming to increase the percentage of challenged employees, we place the highest priority on employing people we really want and in gaining mutual satisfaction.

Employment of foreign nationals
We aim to acquire capable human resources regardless of their nationalities. Our overseas subsidiaries mainly employ local people. In our workplaces in Japan, two from China and one from Vietnam are working with us.
Occupational safety and health
We build and operate a management system, in order to create a safe and hygienic workplace environment through efforts to discover and tackle such problems as dangerous work and places and hygiene issues.
Health and safety education and training
Each of our business facilities is engaging in education, training, and other activities concerning industrial safety and health. Factories in particular are engaging in various activities, including study meetings on chemicals, forklifts, and other items; safety patrols; activities for learning from near misses; and training for predicting hazards, in order to raise safety awareness and prevent accidents and disasters.
Industrial accidents
In FY2021, we had not industrial accidents involving lost time injuries. We will continue to improve our working environment.
Severity rate, frequency rate, and average number of working days lost per causality
In fiscal 2021*, the severity rate was 0.0, the frequency rate was 0.77, and the average number of working days lost per casualty was 0.
Calculated based on 237 employees (non-consolidated) as of the end of fiscal 2021
According to the situation of industrial accidents by industry (announced by the Ministry of Health, Labour and Welfare in 2020), the frequency rate in the manufacturing industry is 1.21, the severity rate is 0.07, and the average number of work days lost per casualty is 58.6.
The working environment in our Company is highly controlled in terms of safety and health.
Ensuring employee health
In addition to implementing health examinations every autumn (consultation rate of nearly 100%), special health examinations in spring and autumn, and stress checks (implementation rate of nearly 100%), we also carry out re-examinations and thorough treatment of those with abnormality findings.
We attach great importance to improving the mental and physical health of our employees.
Measures to prepare for a disaster
In order to ensure human life and business continuity in the event of a natural disaster such as an earthquake or an outbreak of an infectious disease, we stockpile emergency supplies, conduct various related drills, introduce regular evacuation drills and safety confirmation systems, and formulate BCP*. measures are being taken.
Business Continuity Plan: A variety of policy measures formulated in advance to ensure the safety of human life and the continuation of business operations.
New work styles and human resource development
Education and training
Various education / training programs are offered according to the position or job type. Participation in external seminars is also actively encouraged. In the labor and ethics field, improvement activities are conducted based on the annual risk assessment and management review. In addition, training related to mental health is also carried out on a regular basis.
In fiscal 2021, we introduced a training system suitable for the with/after the COVID-19 era, and established and effectively implemented a training system that "offers learning opportunities" and "improves effectiveness".
Training style: Introduction of online training without restrictions on venues and transportation in the with/after the COVID-19 era
Providing Learning Opportunities: Providing content tailored to various levels and stages using the training company's extensive training programs
Improving Effectiveness: Improving learning effectiveness by using "Collective (LIVE)" instead of streaming (video) in online training
Training Expenses: Expansion of the current training expense range through a flat-rate course
Nurturing global human resources
We have established a language training system to develop global human resources. "Selected language training" is conducted via a special program, with the Company selecting human resources and paying the full cost for their training. In FY2021, there were 4 users of this system (cumulative total of 19).
Support for self-development
The Company subsidizes the cost of attending external education that is certified by the Company. We also encourage self-development, such as by paying incentives for people to acquire official qualifications.
About flextime system
We have introduced a flextime system in all Group companies as a style of work that reduces working hours by allowing employees to work more efficiently while maintaining harmony between their lives and work. Core time is from 10:00 to 15:00.
Introduction of full-time employee system for senior members (Introduced from January 2021)
Looking ahead to an "era when people live to 100", after our members reach the retirement age of 60, we have established a system where they can continue working with peace of mind while maintaining motivation as a "regular employee in a broad sense" for 5 years until the age of 65. This is instead of continuing to employ them while renewing their contract every year until the age of 65.
System for listening to employees' requests
We provide employees with opportunities to submit their requests concerning their own relocation and reshuffles via "career development sheets."
Commendation system
We give employees certificates of commendation, along with rewards or commemorative items, for their proposals, contribution to good business results, social contribution, long service, etc.
Employees eligible for commendations for long service are awarded not only a commemorative item but also a special paid "Refresh" leave according to their length of service.
Incentives
We offer incentives to employees who contributed to obtaining patents in order to encourage invention and the use of inventions. Additionally, we also give incentives to employees who obtained official qualifications or published academic papers.
Educations for employees
Disclosure of Medium-term Management Plan and Communication to Employees
In the past we have formulated the Medium-term Management Plan (hereinafter referred to as the "Medium-term Management Plan"), but we have begun to disclose it externally in 2022. Our stance on management, business and society is communicated both inside and outside the company.
During the formulation of this Medium-term Management Plan, employees in Japan and overseas exchanged opinions on mid and long-term management of the Company, in a way that goes beyond division, age, and rank (12 times in total), reflecting their thoughts. This is a medium-term plan that incorporates their ideas and expectations.
We hold briefing sessions for all employees, share their thoughts and courses of action, and work together to achieve the Medium-Term Management Plan's targets.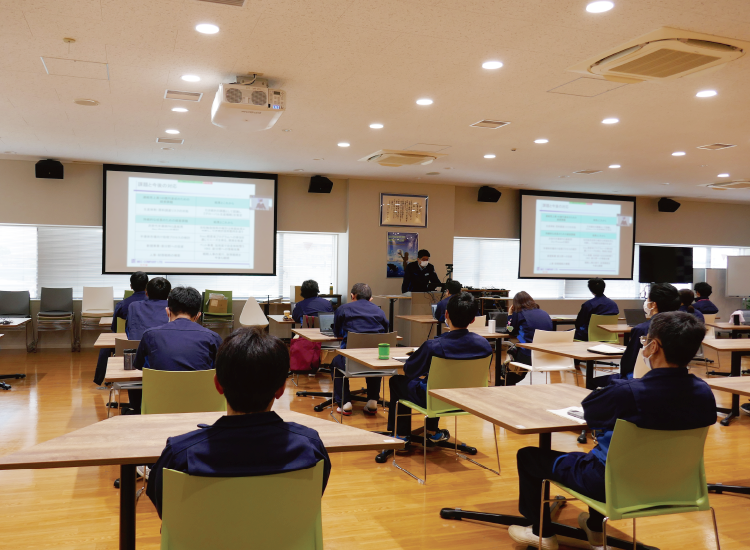 Implementation of skill-up training for ISO internal auditors
In February 2021, ISO Integrated Internal Auditor Training was conducted online to prevent infection and hosted by external specialists, based on our Integrated Manual.
In February 2022, we conducted training for selected internal auditors with the aim of further improving skills.
As was the case with internal auditor training, this was online training provided by an outside instructor.
However, in the post-training verification test, the acceptance rate was 100%. This is expected to improve the level of internal auditing.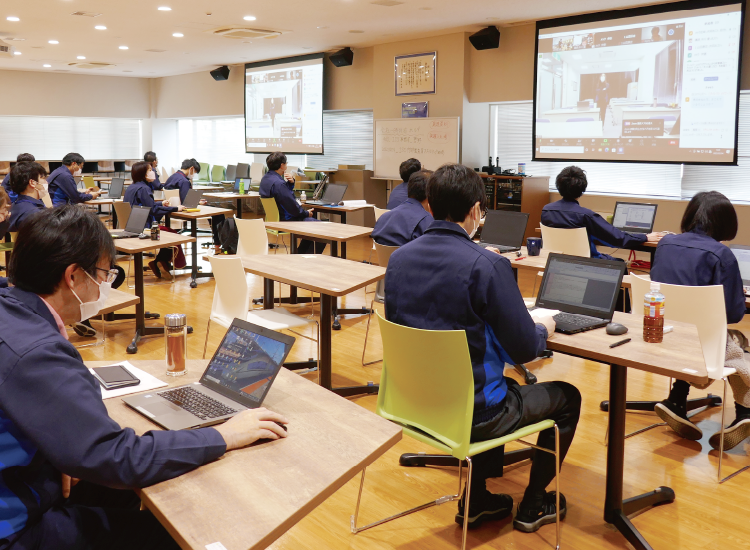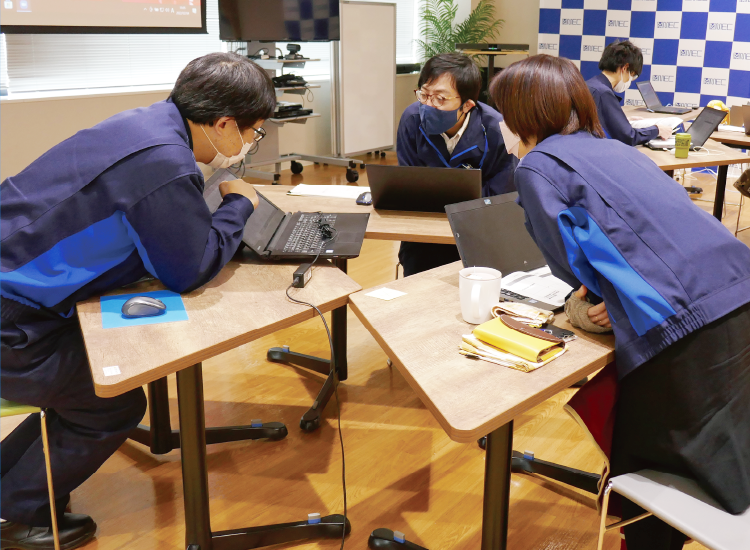 About SDGs training
We endorsed the goals of the Sustainable Development Goals (SDGs) advocated by the United Nations and are working to contribute to the achievement of these goals. In May 2022, external experts were invited to hold seminars for top management on the themes of "Understanding the SDGs as a Corporate Growth Strategy", "Deepening the Strategic Understanding of the SDGs Based on Sustainability Issues", and "Getting Updated on the Latest Trends".
In June 2022, all employees were provided with basic online training, with lectures by external instructors being broadcasting simultaneously to all sites. Furthermore, in November, selected members received additional training, including exercises by those same instructors.
We will continue our efforts to further understanding within the Company.